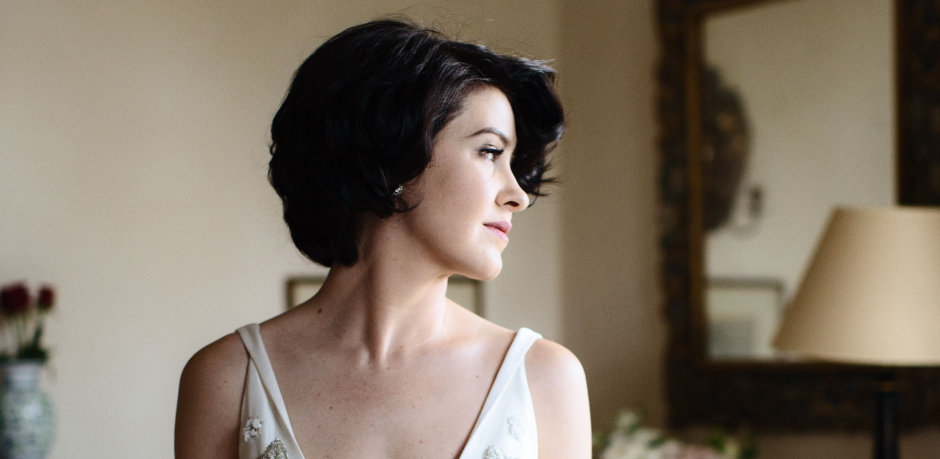 When it comes to weddings there is no exemption that is also changing into a trendier path. In the past there was a saying like when you want to have a good bridal hairstyle you need to have long hair to do so. But now the stylists come up with solutions for that with many hair styles even if you have short hair. Some of the trendy wedding hairstyles for short hair are listed below
Formal Wedding Hairstyle for Short Hair
It is a traditional way where you can cross two strands of hair in opposite directions and have a flower on the junction.
Messy Curly Bridal Up do
Good choice for the brides who have short hair, with the help of hair pins you can twist and roll your hairs and pin it accordingly to have a messy look. On one side you can have an artificial flower to add elegance. It is one of the creative short wedding hairstyles for brides.

Pinned Curls
This is a beautiful style where you can curl your hair at the front in small portions and pin them,  this gives a classic and formal wedding look.
Retro Wedding Hairstyle
Pin-up your curly hairstyle in such a way it gives a dramatic spirit of a retro bride. It is an elegant hairdo along with the princess bridal gown.
Short Curly Undercut Wedding Hairstyle
Some people might naturally have curls; you can straighten your curl and have a flower clip on it to make it look like a tiara. This is a very bold look of a bride. When you have a little length you can curl up your hair on one side to have a gorgeous look.
When you do a little research on the net you will get a lot of short wedding hairstyle ideas to choose from that suits best for your hair type.